Buy Maharaja Whiteline Quato 800-Watt Quartz Room Heater @ 33% Discount.
Features & Reviews Of Maharaja Whiteline Quato 800-Watt Quartz Room Heater:
Type : Room Heater

Power Consumption (Watts) : 800

Blower : No

Heat Settings : Yes

SUPC: SDL463935245
General
Type
Room Heater
Heating Element
2
Safety Features
Yes
Additional Features
Designed for low power consumtion
Technical
Power Consumption (Watts)
800
Installation/Demo (IF applicable)
1
To book an installation/Demo Request, please call the Maharaja Whiteline Customer Service on 1860-180-4111
2
Installation and unpacking will be done by the Intec's Service Executives within 2 to 4 business days after delivery, although it depends on the Brand.
3
The Brand charges a basic Service fee for installation.
4
You may be charged extra for any extra material required for installation as the cost of the material.
Services Included In Basic Installation
1
Installation of Indoor Unit.
2
Installation of Outdoor Unit.
3
Drill work for Wall Mounting and passage for Wiring, Drain Pipe and Copper Tubing.
Warranty
Period
1 Years Manufacturer Warranty
Room heaters, also known as space heaters are used to warm up small spaces. They are portable and can be carried along wherever you want. Maharaja brings to you the Maharaja Whiteline Quato-rh106 800watt Room Heater, which is a radiative heater. It is a smart and compact room heater that works on Quartz tubes. Therefore, they are also called Quartz heater. If you're looking for a smart and extremely affordable room heater, this efficient Room Heater is the one. The heater is available on Snapdeal at the most affordable price, in grey colour. Snapdeal also ensures that the product is 100% original and provides two years brand warranty for it.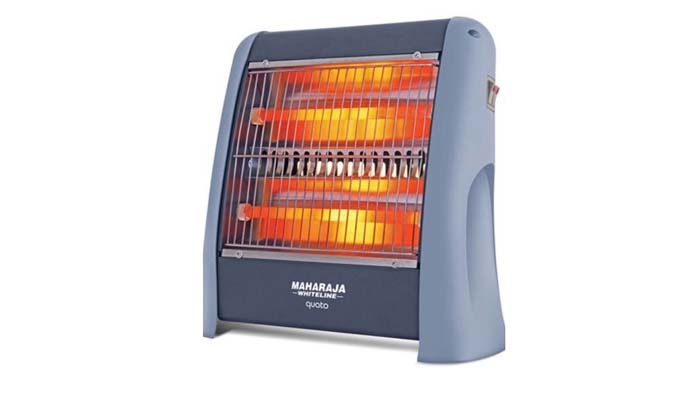 Capacity
The Maharaja Whiteline Quato-rh106 800watt Room Heater does not have any capacity as it is a room heater which provides heat through Quartz tubes. It has two heat settings.
Incoloy Heating Element
The heating element used in this powerful Room Heater is Quartz tubes. The radiator generates heat with coiled heating wires inside the Quartz tubes. It does not have a blower. It has two heating elements with a fan.
Tank Coating
The Maharaja Whiteline Quato-rh106 800watt Room Heater has a metal housing and metal reflector. The outer tank is rust free.
Preset Thermal Cut-Out
This high-quality Room Heater does not have Preset Thermal Cut-Out feature. You have to turn the heater on and off according to your preference and checking that it is not overheated.
Rated Water Pressure
There is no water pressure involved with the Maharaja WhitelineQuato-rh106 Room Heater. It works on the metal coiled quartz tubes and the metal reflector. It provides great warmth.
Heat Retention
This sturdy Room Heater has heat retention feature. The room heater provides high temperature so it remains warm for a while even after you turn off the switch. This saves you energy and cost of electricity.
Power Consumption
The Maharaja Whiteline Quato-rh106 800watt Room Heater comes with two heat settings that allow you to adjust the power consumption. The two settings involve power consumption of 400W or 800W. It comes with a power voltage of 230V.
Other Important Features
The power-saving Room Heater is a low budget room heater. It is designed for low power consumption with two heat settings. It provides safety with tip over switch Quartz tubes. The product is ISI marked.
Best Cheap Deals For Maharaja Whiteline Room Heaters, Grab Cheap Maharaja Whiteline Quato 800-Watt Quartz Room Heater Online.